Bookstore
INTRODUCING
"THE CHRONICLES OF NICODEMUS"
BY NELSON L. PRICE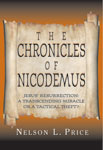 INVITING EXCITING ABSORBING
Was the resurrection of Jesus Christ . . . .
A TRANSCENDING MIRACLE OR A TACTICAL THEFT?
"The Chronicles of Nicodemus" is a historical novel that revolves around a clash of colorful characters and conflicting concepts in answering that question.
Using an apologetic approach the characters Nicodemus and Joseph of Arimathea go about interviewing persons present at the crucifixion. Their responses answer current day heresies about the resurrection and other modern day myths associated.
This distinctive historical novel invest present day criticisms in characters seeking to deny the resurrection. Eyewitnesses respond with insight only they would know. By merging historical fact and modern philosophy a new perspective of the resurrection is afforded. It concludes in a most unsuspected way.
Though it is fiction the story it tells is factual. The historical background throughout the book enlightens one to the times in which it is set. Many of the customs and much of the philosophy of the era are not generally known in the western world.
The author's forty trips to the Bible Lands have enabled him to gain rare insights not common to the average reader. This virtual journey will inform and inspire readers in their search to determine if the resurrection of Jesus was —-
A TRANSCENDING MIRACLE OR A TACTICAL THEFT?
Readers will be better informed to make a valid judgement.
It has been defined by such words as
GRIPPING, INSPIRING, MOVING, CAPTIVATING, CONSUMING, INFORMATIVE, A MUST READ
Purchase Chronicles of Nicodemus in hardback for only $19.95 + $2.50 s+h
For Quantity discounts of 5 or more books, please call: 770-422-2564
Other Books By Dr. Price
Backstage at the Manger: The Story of Christ's Birth

The "War of Christmas" is an attack on the foundation of the Christian fatih. This work provides sound, easy to understand defenses against these flagrant attacks. This inspirational and informative work is the product of thirty-seven visits to the Bible Lands and serving fifty years as a pastor by Nelson Price. Distilled conversations with scholars in the fields of Bible antiquities and archaeology are blended with extensive Bible research to compose this book.
Purchase Backstage at the Manger: The Story of Christ's Birth for only $10.00 + $2.00 s+h
Prayer: Closet Power
God loves to say "Yes" to our prayers. This book provides an enlightening insight into how to offer acceptable prayer to God. A search of Scripture reveals it is as though God is saying over and over: "Please talk to me." Life is transformed when His invitation is accepted. Christ instructed His followers to enter their closet, shut the door and pray to the Father who sees in secret and rewards openly. This is a must read for those who want the privilege of time in the closet to be more productive. You are not in the dark in the closet.
Purchase Prayer: Closet Power for only $10.00 + $2.00 s+h
The Apostles

Against unimaginable odds, 12 men set out to change the course of history and the destiny of millions. Twelve were called. One faltered and a most unlikely champion picked up his fallen banner. With singleness of purpose, they pursued the course upon which their master sent them. They were his agents to transform society with a revolutionary message of love. With Christ's teaching etched in their minds, the image of his crucifixion infused in their memory, and the reality of the resurrection foremost in their hearts, they went forth to conquer. Allow them to disciple you by their lives.
Purchase The Apostles for only $10.00 + $2.00 s+h
Backstage at the Church

The drama of 35 years in a single ministry is played out in this book. The heartbreak and joy of lives shared and victories won will be found to be exciting. Herein, you will find the compatible contrast between what is public knowledge and what goes on — BACKSTAGE AT THE CHURCH.
Purchase Backstage at the Church for only $10.00 + $2.00 s+h
Shipping Charges: When you checkout, you will see line items for the subtotal, price and handling. You will see 3 different numbers, but you will only be charged the "subtotal" amount. Refund Policy: If you are not completely satisfied with your order, please contact Nelson Price Ministries @ 770-422-2564 for assistance. If we are unable to reasonably satisfy your issue, we will be happy to refund your full purchase amount without penalty upon return of the ordered items. If items were damaged in shipment, please contact us as quickly as possible so we can take care of you. Items must be returned within 1 week of refund approval, and within 2 weeks of original shipping date. Refunds will not be issued for books that have been used and then returned. Privacy Policy: Nelson Price Ministries Inc., and it's affiliates, will use your personal and/or credit card information ONLY to complete your order. Your information will not be used for any other purpose than to complete a transaction or address a customer service concern. 2CheckOut.com Inc. (Ohio, USA) is an authorized retailer for goods and services provided by Nelson Price Ministries, Inc..