Nelson and Trudy Price Learning Center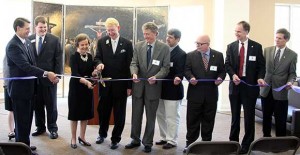 The much-anticipated addition to the Shorter University library opened this fall and on Friday, Sept. 14, was officially named in honor of longtime Trustee Chairman Dr. Nelson Price and his wife, Trudy.
The University hosted a preview event on Thursday, Sept. 13, for faculty, staff and students to celebrate the new addition with the Prices. A formal dedication ceremony and reception was held on Friday for donors and friends.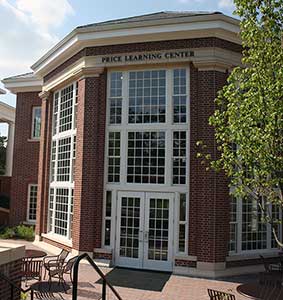 In announcing that the facility would be named the Nelson and Trudy Price Learning Center, Shorter President Dr. Don Dowless said, "Dr. and Mrs. Price have put their lives into advancing the Kingdom of Christ. Every student who comes here will benefit because of what they have done."
Dr. Dowless went on to describe the Prices as having "a lifetime of continual service that has given birth to this facility."
The 18,000-square-foot addition was designed after a basilica and features a two-story cathedral atrium. The breath-taking facility has become a showpiece for the Shorter campus. Featuring a Starbucks coffee shop, a fireplace, and plenty of comfortable seating, the Price Learning Center has greatly increased the library's ability to attract students.
"I was working one Saturday and walked by the fireplace, where I saw a student curled up on the sofa reading her book," said Director of Library Services DeWayne Williams. "She had to plan that – bringing her blanket to the library. That's a success! We want the students to feel at home here."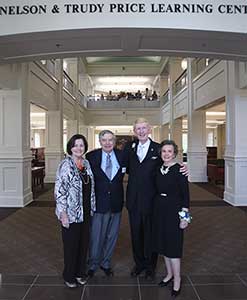 Cooper Carry of Atlanta was the architectural firm for the project with Tim Fish serving as the lead architect. As in many buildings that Fish works on, the library features a fish-shaped design element. For the Price Learning center, he chose Christian fish-style accents for the second-floor railing which also serve as a tribue to Shorter's Christian mission.
Dr. and Mrs. Price have also generously donated a collection of books and artifacts they have collected over many years of ministry. The artifact collection includes a page from the original Gutenberg Bible; stones from various locations in the Holy Land, including Mount Calvary; and personal treasures including the first Bible used by Dr. Price as a preacher. The artifacts are housed in a display case on the second floor of the Price Learning Center.